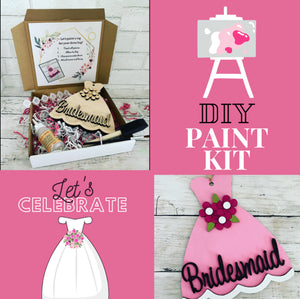 Bridesmaid Bag Tag DIY Paint Kit:
Turnaround Time: 3-5 business days 
A fun DIY kit for your bridesmaids to do for their dress bag! Would be a cute addition to a bridesmaid proposal box! Words can be changed out for Maid/Matron of honor and Flower girls!
Includes:
Instructions
Blank wood cut outs
Paint (colors can be matched as closely as possible to actual wedding colors)
Paint brushes/sponges
Twine
Wood Glue
*discounts available for bulk orders, paint parties, etc. Please contact us to discuss this option. 
**packaging may vary depending on supplies available.